---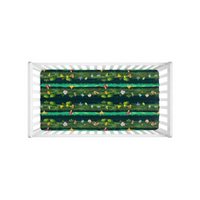 "Taller Grass" invites you to embark on an extraordinary journey into a world inspired by the beloved Pokemon universe. Imagine a setting where day gently fades into night, casting a serene, ethereal glow across the landscape. In this mystical environment, you'll have the opportunity to seek out and connect with your favorite starter Pokemon, who await your discovery within the tall grass. So, step into this captivating twilight realm, and let your heart and imagination run wild as you find your favorite starter Pokemon lurking in the tall grass, waiting to join you on an unforgettable quest.
Crafted for a perfect fit on both 28x52-inch and 24x38-inch cribs, this crib sheet combines practicality and comfort seamlessly. Made from high-quality 100% jersey knit polyester, it features a reinforced elastic fitted lining and deep pockets to ensure a snug and secure fit.
Care Instructions:
For easy maintenance, simply machine-wash the sheet in warm water, tumble dry on low heat, and avoid using any bleach additives. Keep your baby's sleep environment clean and cozy with this hassle-free crib sheet.