---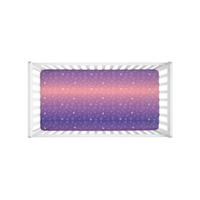 "Senshi Skies" captivates with a twilight sky that pays homage to Sailor Moon and her devoted Senshi warriors. This charming design transports you to a celestial realm where the heavens are adorned with the brilliance of zodiac constellations. Each Senshi Scout is symbolized with their unique emblem, creating an enchanting tapestry of celestial beauty and guardian strength.
Crafted for a perfect fit on both 28x52-inch and 24x38-inch cribs, this crib sheet combines practicality and comfort seamlessly. Made from high-quality 100% jersey knit polyester, it features a reinforced elastic fitted lining and deep pockets to ensure a snug and secure fit.
Care Instructions:
For easy maintenance, simply machine-wash the sheet in warm water, tumble dry on low heat, and avoid using any bleach additives. Keep your baby's sleep environment clean and cozy with this hassle-free crib sheet.