---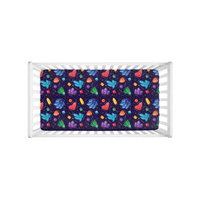 Step into a world where the mystique of healing crystals and the ancient wisdom of the seven chakras merge seamlessly with the exhilaration of tabletop gaming. "Rock & Roll" is an extraordinary and enthralling design that intricately weaves together the realms of holistic spirituality and immersive role-playing adventures. This captivating pattern draws you into a universe where each chakra is embodied by a distinct crystal, a unique polyhedral die, and a corresponding character class, promising an unforgettable expedition into the realms of equilibrium and self-discovery.
Crafted for a perfect fit on both 28x52-inch and 24x38-inch cribs, this crib sheet combines practicality and comfort seamlessly. Made from high-quality 100% jersey knit polyester, it features a reinforced elastic fitted lining and deep pockets to ensure a snug and secure fit.
Care Instructions:
For easy maintenance, simply machine-wash the sheet in warm water, tumble dry on low heat, and avoid using any bleach additives. Keep your baby's sleep environment clean and cozy with this hassle-free crib sheet.