---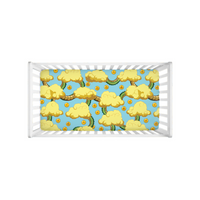 "Eternal Dragon" is an electrifying and visually stunning design that promises an exhilarating journey through a world where power levels are over 9,000 and wishes can come true. Inspired by the iconic "Dragon Ball" series, this design immerses you in a vibrant and action-packed experience, featuring all seven dragon balls. Your mission? Soar through the clouds on your very own Kinto Un and embark on a thrilling adventure to collect all of these mystical balls and make your wishes a reality.
Crafted for a perfect fit on both 28x52-inch and 24x38-inch cribs, this crib sheet combines practicality and comfort seamlessly. Made from high-quality 100% jersey knit polyester, it features a reinforced elastic fitted lining and deep pockets to ensure a snug and secure fit.
Care Instructions:
For easy maintenance, simply machine-wash the sheet in warm water, tumble dry on low heat, and avoid using any bleach additives. Keep your baby's sleep environment clean and cozy with this hassle-free crib sheet.